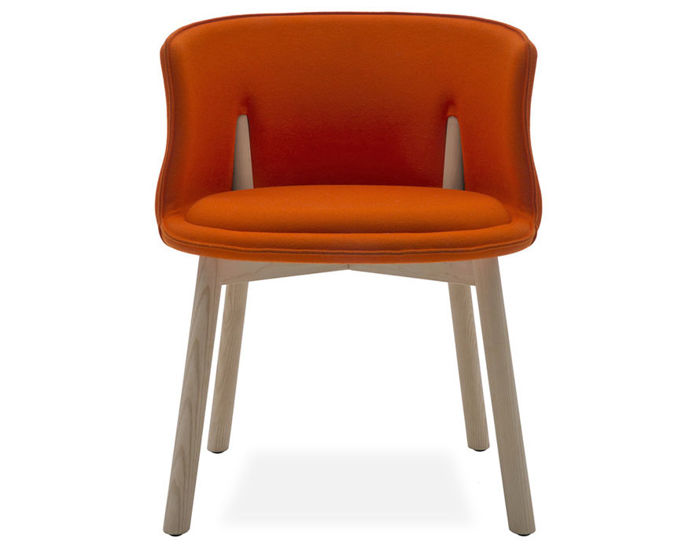 peg chair
Design Nendo, 2014
Stiff polyurethane, soft foam, massive ash wood
Made in Italy by Cappellini
Inspired by the city cars that casually scoot around the streets of Milan, such as the famous Fiat 500, the Peg Chair by Nendo has rounded contours and the back legs in solid ash wood perforate both sides of the backrest. Despite its compact dimensions, the chair's design provides optimal back support and ideal comfort.
The ash wood frame of the Peg chair comes with a bleached, wenge-stained or black-stained finish; the upholstery is fixed and available in the leathers from the collection and a variety of fabrics, and the seat and back rest can be mixed and matched as desired from amongst the selected fabrics and leathers.
Under the direction of architect Oki Sato, the group that gathers under the name Nendo has represented a cultured and refined alternative to self-celebrative design since 2002. "Nendo" means "clay" in Japanese; the job of the Nendo group in the field of interior architecture, furniture and graphics is to be as pliable and flexible as clay. In just a few years and running on a big personality and unmatched determination in the field of modern design, Nendo has already received several international credits.
22.75" w | 29.25" h | 24.5" d | seat: 18.5" h
$2,500.00 + free shipping
(please allow 12-16 weeks for this chair to be created and shipped to your location)

Born into a family of furniture manufacturers, Giulio Cappellini began working for the family company in 1979, after earning his degree in architecture and studying business management. By the early 1980's, Giulio's leadership brought the Cappellini company into the world market from its three decade run as a handicraft furniture business. Hoping to expand the styles and materials used, Giulio scouted designers, bringing Jasper Morrison, Ronan and Erwan Bouroullec, Marcel Wanders, Marc Newson, and Tom Dixon into the fold. Now, the firm boasts a varied, comprehensive collection rather than a singular style. Still, there are common threads: refined simplicity, dynamism, liveliness, humor.