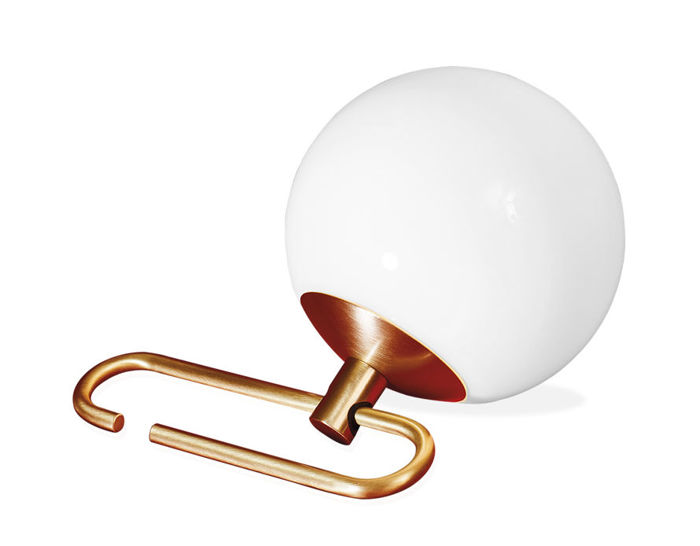 nh1217 lamp
Design Neri & Hu, 2017
White blown glass sphere, brushed brass ring
Made by Artemide
nh1217 is a simple, versatile, practical lamp that can be laid or suspended. A white blown glass sphere slides along a brushed brass ring, which allows it to take different positions and to freely adjust and direct the diffuser. The frame becomes a support, a hook to hang the appliance to the wall, or a handle promoting an interaction with light.
nh1217 continues research on the dynamic interaction of experience, details, materials, form, and light that Neri&Hu are pursuing with Artemide.
The selected materials represent a perfect combination of tradition and innovation, as well as the expression of responsible and sustainable design, also conveyed by the use of an in-box low-consumption retrofit LED source and by the eco-friendly cardboard packaging.
brass ring: 2" w | 6.3" L | .3" thick | globe: 5" d | 5.5" w
includes 5W E12/G16.5 LED | on/off switch on cord
$312.00 + free shipping
(usually ships in 2-4 weeks)

The Artemide light has never been solely a function of seeing, or an opportunity for formal experimentation with lamps as objects. For more than forty years, Artemide has aimed to propose light as a companion to people, as a source of physical pleasure and mental comfort. Artemide has done so, with different work groups, searching through the whole design process, starting with a declaration of values - The human light. Beyond the definition, the human light is intelligent light. A light that knows it has to relate to people, accompanying them in their daily activities.