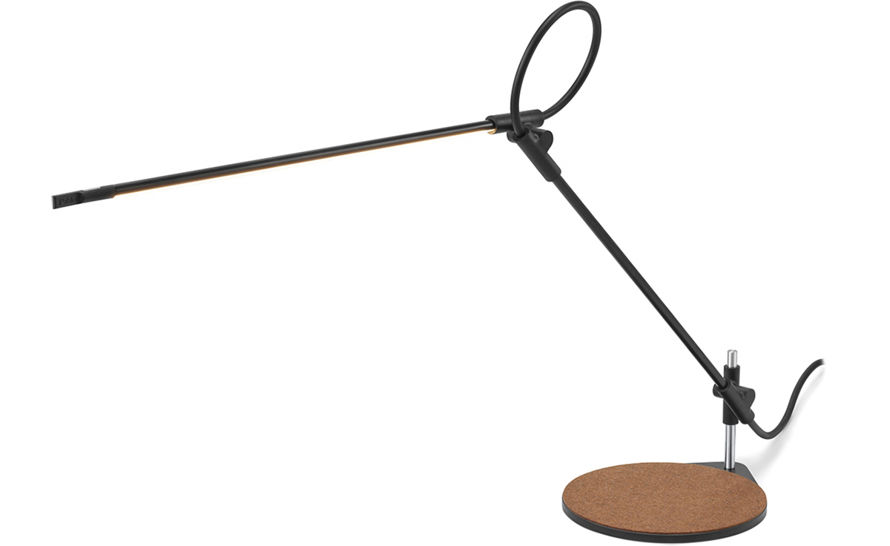 superlight table lamp
Design Peter Stathis & Matthew Boyko, 2017
Aluminum body, polycarbonate lens, steel base, felt base pads
Made in USA by Pablo Designs
Superlight balances the demands of both workplace and home with a combination of minimal form and maximal function. Superlight is a task light reduced to its essence. A gestural line in space resulting in a precise yet playful structure defying gravity with an appearance of near weightlessness. Superlight achieves fluid, sweeping movement in every direction with a full 3-axis range of motion providing warm, glare-free LED light exactly where you need it. Superlight is available as a desk, floor, wall, clamp or grommet mounted fixture.
The Superlight table lamp features 3-axis rotation at each point with an ultra-light minimal frame, advanced LED array to eliminate multiple shadows with full-range dim control, 6-hour energy saving auto-off timer and includes 4 colored base pads. The high-output LED array uses 8.5W of energy and lasts for 50K hours.
superlight floor lamp: 17" - 22" h | 20.75" - 32.75" w | base: 8" dia. | cord: 9' L
includes 8.5W, 3000K, 700 lumen, 85+ CRI high output LED array | CE certified
$330.00 + free shipping
(usually ships in 5-7 days)

With the creation of his first product in 1993, Pablo established a powerful and generative design philosophy. Since then, his core principles have informed the development of every light in the studio's 20-year history. These products continue to move with culture while withstanding trends in design - and each one carries the underlying uniqueness that is distinctly "Pablo."