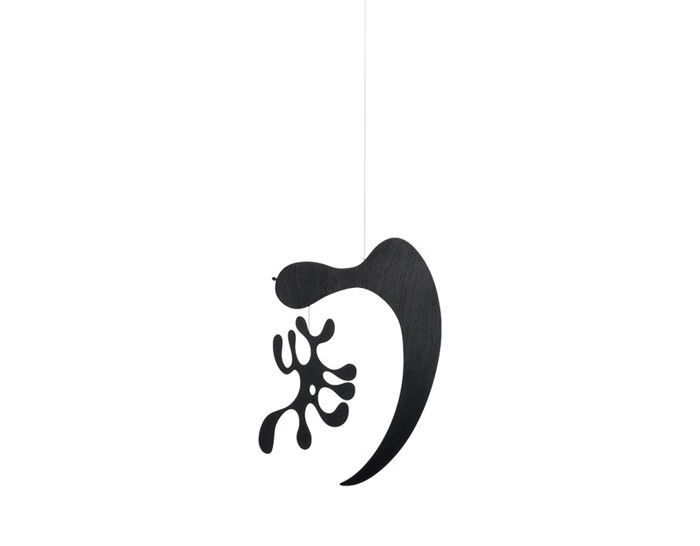 charles & ray eames plywood mobile model a
Design Charles & Ray Eames®, 1941
Aircraft plywood, black lacquer finish
Made by Vitra
"Eventually everything connects - people, ideas, objects. The quality of the connections is the key to quality."
-Charles Eames
The Plywood Mobiles were created in the early 1940s in connection with a series of experiments conducted by Charles and Ray Eames for the purpose of refining their plywood molding techniques. These designs, whose shapes are strongly reminiscent of Ray's artwork and graphics, were hung from the ceiling of the Eameses' apartment in Los Angeles.
The Plywood Mobiles are offered in two configurations. Each Plywood Mobile consists of two abstract, organically shaped plywood elements, which playfully rotate around and inside one another.
model A: 12.5" w | 15.75" h | 0.7 lbs.
$210.00 + free shipping
(usually ships in 9-12 weeks)

Husband and wife team Charles (1907-1978) and Ray (1912-1988) Eames played a major role in the world of modern architecture and furniture, as well as working in industrial and graphic design, fine art, and film. Charles completed two years of study at Washington University in St. Louis. With his design and life partner Ray, he designed prize-winning furniture that expanded upon the wood molding techniques of Alvar Aalto. Ray-Bernice Alexandra Kaiser Eames began as an abstract expressionist painter, having graduated from Bennett Women's College in Millbrook, NY and later studying under Hans Hoffman while living in New York City. She co-founded the American Abstract Artists and has a painting in the Whitney museum's permanent collection.

Vitra is a Swiss company dedicated to improving the quality of homes, offices and public spaces through the power of design. Following in the tradition of Charles & Ray Eames, who have influenced Vitra's approach to sustainability in many ways, product longevity is central to the company's contribution to sustainable development; short-lived styling is avoided at all costs. This can be seen most clearly in the classical pieces of furniture that have been used for decades, had several owners and have then even ended up as a part of a collection.
charles & ray eames plywood mobile model a