bertoia molded shell side chair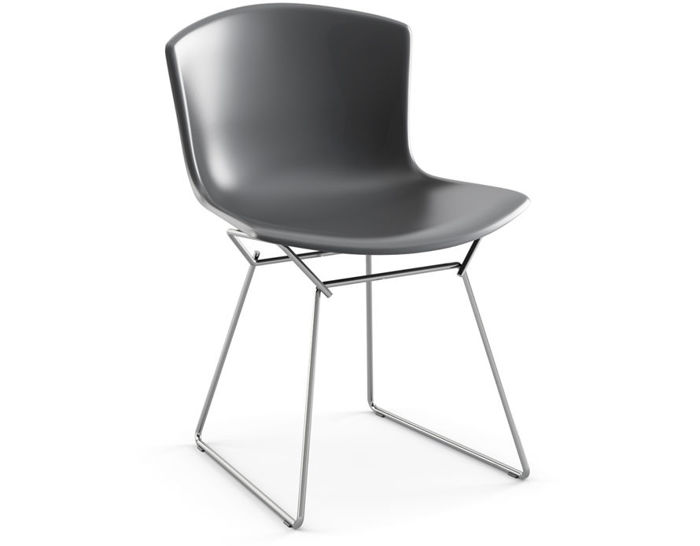 bertoia molded shell side chair
Design Harry Bertoia, 1952
Welded steel rods, glass fiber reinforced nylon or polypropylene shell
Made in USA by Knoll
The Bertoia Molded Shell Side Chair is a reintroduction of a design originally debuted 1960. Merging the sublime grace of the wire-form Side Chair with a touch of color and natural flex, the reinvigorated classic is ready to add colorful accents to any room. Mix and match the chairs or keep a singular color palette, the Bertoia Shell Chair offers an iconic design with a playful tone.
Italian sculptor, university lecturer and furniture designer, Harry Bertoia was an inventor of form and an enricher of design. He introduced a new material by turning industrial wire rods into a design icon. Educated at the Detroit School of Arts & Crafts and Cranbrook Academy of Art. Bertoia taught metal crafts at Cranbrook while working with Charles Eames to develop his signature molded plywood chairs. Eero Saarinen commissioned him to design a metal sculptured screen for the General Motors Technical Center in Detroit. His awards include the craftsmanship medal from the American Institute of Architects, as well as AIA's Gold Medal.
The base features 11mm welded steel rods in polished chrome or highly durable bonded powder-coat (white or black) with stainless steel connections and plastic glides. Polished chrome base is not appropriate for outdoor use. The molded shells are available in 6 colors for indoor and outdoor use, if specified in a painted base finish. The molded shell colors are Black, Blue, Medium Grey, Orange Red, White and Yellow.
21.75" w | 19.75" d | 28.75" h | seat: 17.75" h | 14 lbs.
$418.00 + free shipping
(please allow 8-12 weeks for this special chair to be created and shipped to your location)

In addition to designing furniture, Italian-born Harry Bertoia (1915 -1978) was an artist and sound art sculptor. At age 15, he moved to Detroit from Italy after intending only to visit, and began studying art and design. In 1938 he attended the Art School of the Detroit Society of Arts and Crafts, now known as the College for Creative Studies. The following year in 1939 he received a scholarship to study at the Cranbrook Academy of Art. In 1939, he opened his own metal workshop and taught jewelry design and metal work, focusing mostly on the jewelry as the war made metal an expensive commodity.

Hans Knoll, the son of a pioneer German furniture manufacturer, founded the Knoll company in New York City in 1938, one year after immigrating from Germany. He hired Florence Schust, a Cranbrook graduate who had worked for Gropius and Breuer, and the two were married in 1946. The next year, they opened a textiles division and showroom that was flanked with some of the worlds leading designers. Knoll would triumph thanks to impressive international contacts, gaining exclusive rights to the works of Ludwig Mies van der Rohe and producing them to their original specifications. This included the 1929 Barcelona Chair. They also commissioned Eero Saarinen to design the now iconic Tulip chair, and hold the rights to Marcel Breuer's seminal Wassily Chair. Artists such as Harry Bertoia, Jens Risom, and Isamu Noguchi would also collaborate with Knoll.
bertoia molded shell side chair