florence knoll hairpin™ stacking table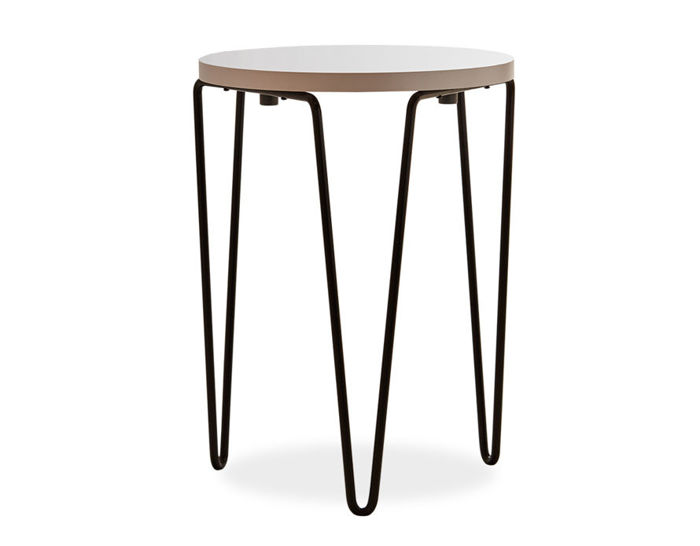 florence knoll hairpin™ stacking table
Design Florence Knoll, 1947
Bent steel rods powder-coated, laminate, MDF, veneer
Made by Knoll
First introduced in 1948, Florence Knoll's Model 75 stacking stool was an instantly popular addition to what was then still a small catalog of furnishings from Knoll Associates. With its ingeniously simple three-pronged wire base granting it its "hairpin" moniker, the Model 75 stool is now reintroduced as the Hairpin Stacking Table.
While She based the compact design on earlier studies using steel rods at the Cranbrook Academy of Art, other reports cite the iconic 1933 wooden stacking stool designed by Finnish modernist Alvar Aalto as an equal influence. Whatever the stimulus, the final result was an exquisite composition with its proportions calibrated by Florence Knoll's exacting eye. The design remained in production until 1966 and was only briefly reproduced in 1981 for the Innovative Furniture in America exhibition at the Cooper Hewitt Museum in New York.
The Model 75 stool has been reintroduced as the Hairpin Stacking Table, which will be made with either a powder-coat or chromed steel base and MDF top sandwiched between laminate with laminate edge. The woodgrain laminates tops have matching woodgrain ABS edge. The table can stack five high and Includes three nylon bumpers underneath the top to prevent scratches when tables are stacked. As Florence Knoll always intended, the Stacking Table does not just hold its own as a timeless piece of design-it proves its true value in its ability to round out the composition of any inhabited space.
By the bed, in the library, or in the nursery, the Hairpin Stacking Table demonstrates Florence Knoll's knack for good design not simply in the succinctness of its form, but the sheer versatility of its uses. But perhaps it was Charles Eames, a fellow classmate and designer from the Cranbrook Academy of Art, who said it best. "Each time I go East I see something you have done," he wrote to Florence Knoll in 1957. "It is always good, and I feel grateful to you for doing such work in a world where mediocrity is the norm."
13" w | 13" d | 18.5" h | 7 lbs.
$276.00 + free shipping
(please allow 8-12 weeks for this special table to be created and shipped to your location)

Florence Knoll Bassett (b. 1917) is an American architect and furniture designer who studied under Mies van der Rohe and Eliel Saarinen. She was born in Saginaw, Michigan as Florence Schust. She graduated from the Kingswood School before studying at the Cranbrook Academy of Art. She also received a bachelor's degree in architecture from Armour Institute (now Illinois Institute of Technology) in 1941 and briefly worked with leaders of the Bauhaus movement, including Walter Gropius, Marcel Breuer, and Wallace K. Harrison. While a student on the campus of the Cranbrook Academy of Art, Florence Knoll Bassett became a protegée of Eero Saarinen. In 1946, she married Hans Knoll, and they formed Knoll Associates. When Hans Knoll died in a car accident in 1955, Florence Knoll took over operation of the company. As a pioneer of the Knoll Planning Unit, she revolutionized interior space planning with her belief in "total design." For her contributions to architecture and design, Florence Knoll was accorded the National Endowment for the Arts' prestigious 2002 National Medal of Arts.

Hans Knoll, the son of a pioneer German furniture manufacturer, founded the Knoll company in New York City in 1938, one year after immigrating from Germany. He hired Florence Schust, a Cranbrook graduate who had worked for Gropius and Breuer, and the two were married in 1946. The next year, they opened a textiles division and showroom that was flanked with some of the worlds leading designers. Knoll would triumph thanks to impressive international contacts, gaining exclusive rights to the works of Ludwig Mies van der Rohe and producing them to their original specifications. This included the 1929 Barcelona Chair. They also commissioned Eero Saarinen to design the now iconic Tulip chair, and hold the rights to Marcel Breuer's seminal Wassily Chair. Artists such as Harry Bertoia, Jens Risom, and Isamu Noguchi would also collaborate with Knoll.
florence knoll hairpin™ stacking table