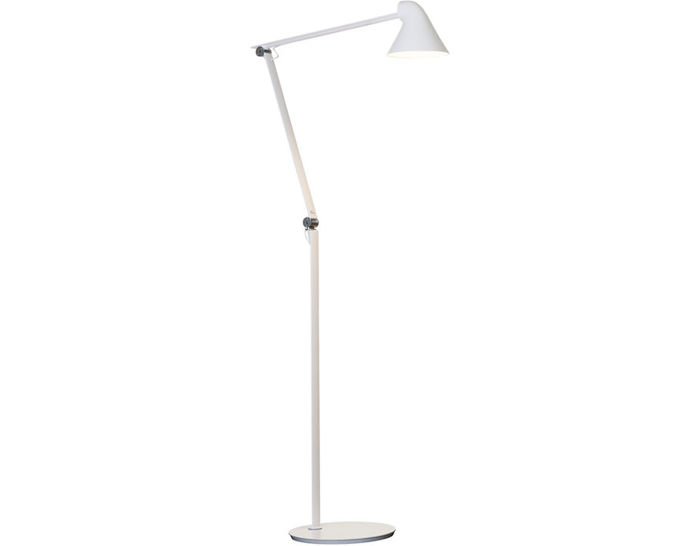 njp floor lamp
Design Nendo, 2016
Steel, aluminum arms & head, anodized aluminum joints
Made by Louis Poulsen
The NJP lamp was designed by Nendo design studio of Japan and designer Oki Sato. Its simple and honest look bares the lamp's functional components, and makes it self-explanatory in its expression. The lamp's applications have been considered in every detail: The two joints on the arm offers great flexibility making it easy to set the lamp position. As an added touch, the springs are exposed in the arm joints, and contribute to the lamp's decorative expression. In the same way, the rear shade opening towards the arm provides smooth adjustment of the head and ventilation for the LED units.
The NJP floor lamp provides direct glare-free horizontal light while reflecting some of the light through the rear of the head, illuminating the top of the arm. The ergonomic design of the fixture head shapes the light and gives optimal light direction. A simple mechanical system provides great freedom of movement, so the light can always be set in the ideal position in the workspace. The shade is painted white on the inside, reflecting comfortable diffused light. Offered in your choice of a white or black powder-coat finish.
NJP is offered in your choice of a light grey, black or white powder-coat finish with matching 6 foot cord. It features a high/low/off button on the fixture head and also includes a timer function for automatic switch off (4 hours or 8 hours).
39.7" h | upper arm: 17.7" | base: 13" dia. | shade: 5.7" dia. | 16 lbs.
includes 10W, 2700K or 3000K LED | cord: 6' feet | UL listed
$974.00 + free shipping
(usually ships in 3-5 days)

Danish lighting manufacturer Louis Poulsen was founded in 1874. Some of the company's best designers were Arne Jacobsen and Poul Henningsen. Henningsen created the well known PH-Lamps line and the iconic "Artichoke" Lamps. For over 70 years Louis Poulsen has been working with visionary designers, thus the Danish company has become one of the worlds most innovative manufacturers of lighting solutions. The revolutionary ideas of designers and and architects such as Verner Panton and Arne Jacobsen could become reality only by profound production know how.