bras highback wood base lounge chair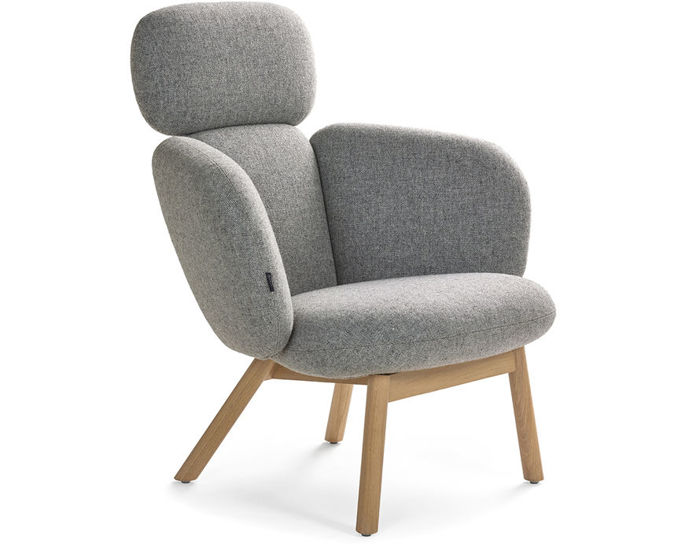 bras highback wood base lounge chair
Design Khodi Feiz, 2015
Upholstery, powder-coat steel or wood base
Made in The Netherlands by Artifort
"In a way, I like to see Artifort not as a company in the business of making furniture, but in the business of making history." -Khodi Feiz
We are happy to introduce a new member to the Bras family: the Bras Highback. With its comfortable and generous dimensions, the Bras Highback invites you to recline and drift away. A 'comfortable embrace' is a good way to describe the feeling of this snug armchair. The addition of extra head support and a higher back offer users even more comfort.
Khodi Feiz was born in Iran. He graduated from Syracuse University in Industrial Design. After working for Texas Instruments Design Center and later joining Philips Design in the Netherlands, he founded feiz design studio with graphic designer Anneko Feiz - van Dorssen. They specialize in a variety of design fields. Their work has received numerous awards and has been featured in exhibitions and publications worldwide.
Bras Highback chair can be upholstered in your choice of textile and features two base options (4-leg wood or 4-leg swivel with return mechanism). The swivel base is offered in polished stainless steel or powder coated in a variety of colors. The wood base is offered in oiled oak and does not swivel. Bras is delivered standard with transparent plastic glides for the swivel version and white plastic glides for the wood base version, optional felt glides also available.
bras highback 4-leg swivel base: 31.1" d | 38.6" h | 35.4" w | seat: 16.9" h
bras highback 4-leg wood base: 31.1" d | 38.6" h | 35.4" w | seat: 16.9" h
$3,561.00 + free shipping
(please allow 12-14 weeks for this item to be created, shipped and delivered)

The foundations of Artifort were laid by Jules Wagemans. In 1890, he set up business as an upholsterer in Maastricht. His son, Henricus Wagemans, expanded the company into a furniture factory, which had a showroom in Amsterdam by the end of the 1930's and was already well known nationally. The economic recession of the nineteen thirties forced H. Wagemans & Van Tuinen, as the furniture company was then known, to create a distinctive profile. The emphasis came to lie on functionality, comfort, and quality combined with aesthetically pleasing design and an innovative use of materials. The new brand name became Artifort, derived from the Latin word 'ars' meaning 'art or knowledge', and 'fortis' meaning "strong or powerful."
bras highback wood base lounge chair