heller vignelli rainbow mug set of six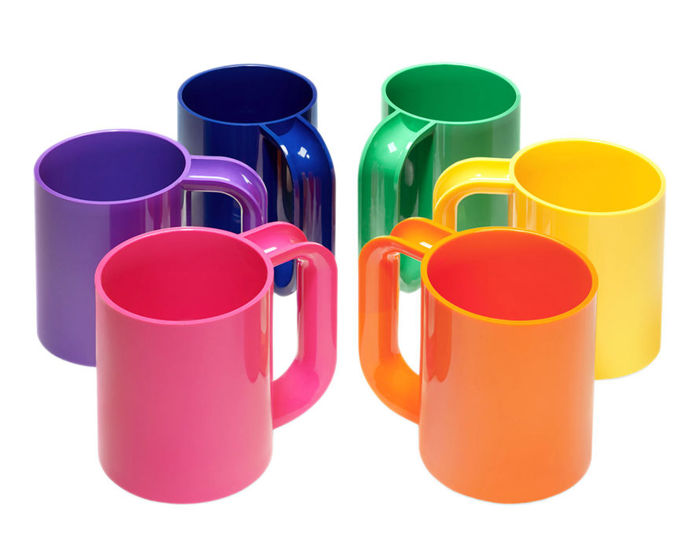 heller vignelli rainbow mug set of six
Design Lella & Massimo Vignelli, 1964
Polycarbonate
Made in USA by Heller
"Design is one." -Massimo Vignelli
This ubiquitous dinnerware, designed to be stackable in a compact way, originally was manufactured in Italy and won their first Compasso d'Oro award for Good Design in 1964. Introduced later in the United States and then manufactured by Heller, the dinnerware became extremely popular, especially after it was produced in a rainbow of briliant colors.
Italian natives, Massimo & Lella Vignelli established the Vignelli Office of Design and Architecture in the city of Milan in 1960. Both have been recipients of numerous design awards with examples of their works included in permanent collection of several museums around the world. Today, their projects are associated around graphics and design through Vignelli Associates.
This timeless design is still in production today and offered as a 6 piece set. The set includes 1 pink, 1 red, 1 yellow, 1 green, 1 blue & 1 purple mug. Dishwasher & microwave safe.
mug: 3.125" dia. | 4.25" h | width including handle: 4.5" | width of handle: 1" | .25lbs.
$9.00 shipping in the continental U.S.
(THIS ITEM IS ON PRODUCTION HOLD UNTIL FURTHER NOTICE)

If you can design one thing, you can design everything, said Massimo Vignelli (b. 1931, Milan) who has worked in a number of areas ranging from package design to furniture design, to public signage, to showroom design through Vignelli Associates, which he co-founded with his wife, Lella. He studied architecture at the Politecnico di Milano and later at the Università di Architettura, Venice. Vignelli went to New York in 1966 to start the New York branch of a new company, Unimark International, which quickly became one of the largest design firms in the world. They designed many recognizable corporate identities, including American Airlines and the New York City Subway. In 1971, Massimo resigned from Unimark, and soon after, he and Lella founded Vignelli Associates.

Heller has created a simple paradigm: good design, industrial production and reasonable prices. The company's very first product line, in 1971, was Massimo Vignelli's stacking dinnerware that went on to win a Compasso d'Oro award and is included in the MoMA permanent design collection. They rolled out their furniture line in 1998, beginning with the Bellini Chair, designed by Mario Bellini. It also claimed a Compasso d'Oro. Bellini designed more noteworthy chairs: The UltraBellini Chair (2006), the MB 1, MB 2 and MB 5. Heller continues to explore new technologies in furniture manufacturing.
heller vignelli rainbow mug set of six
THIS ITEM IS ON PRODUCTION HOLD UNTIL FURTHER NOTICE
{{ option.selection_label }}
{{ option.option_name }}
add {{ option.option_price | toCurrency }}
total
{{ totalPrice | toCurrency }}