cosm low back task chair dipped in color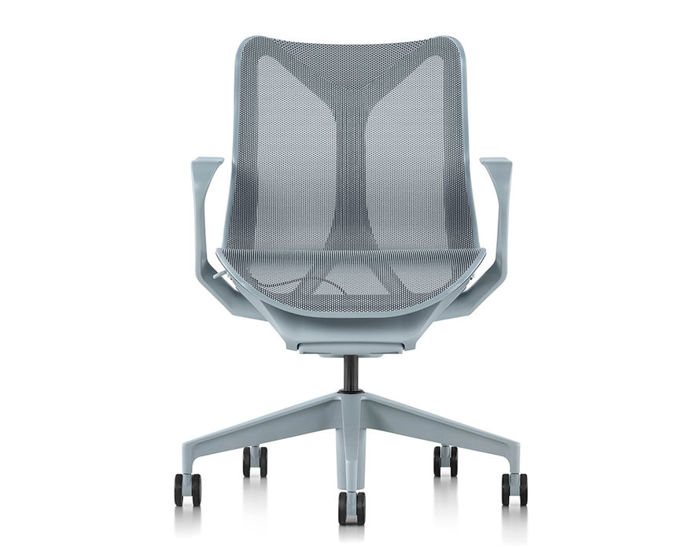 cosm low back task chair dipped in color
Design Studio 7.5, 2018
Die-cast aluminum, plastic, intercept fabric
Made by Herman Miller
Sit in Cosm, and you just might forget you're sitting in a chair at all. Its sophisticated ergonomic design sets a new bar for instant, personalized comfort, no matter who sat in the chair before you, how long you'll be in it, or what you'll be doing. The designers at Berlin-based Studio 7.5 knew, even when working on predecessors like Mirra, Setu, and Mirra 2, that the ideal chair would provide a smooth feeling of natural balance. Cosm's revolutionary Auto-Harmonic Tilt does just that - putting the person first and responding to them, no matter their posture - for total support. Available in three different back heights, as well as a stool, Cosm gives you a new experience of comfort - anywhere you work.
* Cosm Chair, Dipped in Color has one hue from top to bottom - nightfall, glacier, or canyon.
* Back Height - Cosm Chair is available in various back heights:
The high back chair provides total back support including upper-thoracic support.
The mid back chair provides support up to the scapular region.
The low back chair fosters collaboration and casual movements through the wrap-top.
* Arms - Any back height can be paired with any arm option. Arm options include no arms, a fixed (nonadjustable) arm, height adjustable arms and the innovative leaf arm. Leaf arm is nonadjustable and supports your elbow while also clearing the work surface due to the angled arm position. Height-adjustable armadas will match the frame color.
* Height-adjustable arms are only available on the graphite, carbon, or mineral frames.
* Tilt - The Auto-Harmonic Tilt is the first self-adjusting tilt from Herman Miller. The tilt gives each sitter individual support and a balanced recline that lets the body naturally pivot at the ankles, knees and hips.
* Weight Limit - Chair is tested and warranted for use by persons 350 pounds and under.
Note - As with any material or textile, dye transfer may occur on seating surfaces, being more noticeable on lighter color expressions. If this is a concern, we recommend selecting a darker color expression on which dye transfer will be less noticeable. As a reminder, dye transfer is not covered under the Herman Miller warranty.
cosm low back chair: 26.7" - 29.3" w | standard-height range: 34" - 40.2" h | seat: 16.4" - 20.9" h | 15.5" d | 49 lbs.
warranty: 12 years
$1,135.00 + free shipping
(usually ships in 20-25 business days)

Herman Miller was a West Michigan businessman who helped his son-in-law, D.J. De Pree, buy the Michigan Star Furniture Company in 1923. De Pree had been working at the company, which opened in 1905, since he was hired in 1909 as a clerk. De Pree knew his father-in-law was a man of integrity, so he decided to rename the company after him. By the middle of the 20th century, the name Herman Miller had become synonymous with modern furniture. Working with legendary designers George Nelson and Charles and Ray Eames, the company produced pieces that would become classics of industrial design.
cosm low back task chair dipped in color