washington prism™ lounge chair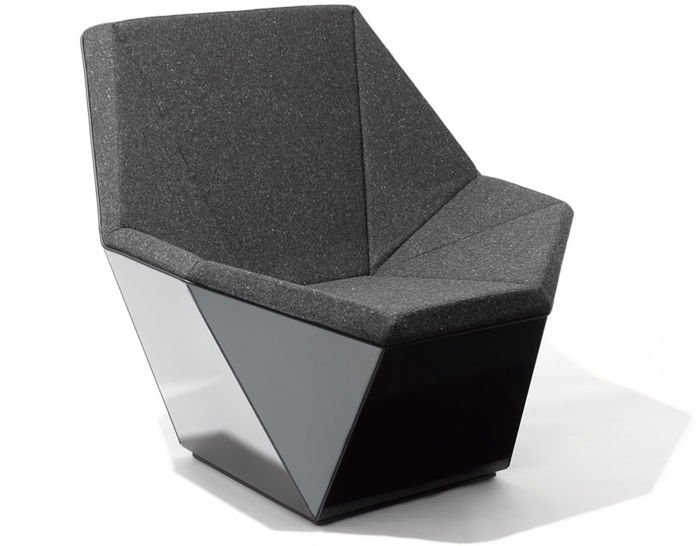 washington prism™ lounge chair
Design David Adjaye, 2014
Birch plywood, urethane foam, poplar, upholstery, plastic
Made by Knoll
Designed by David Adjaye as part of the Washington Collection for Knoll™, the Prism lounge chair and ottoman use geometry and pattern to define form. The pieces are intended as sculptural or architectural objects that can be viewed from any angle. The lounge chair also has a swivel functionality, adding lightness to the piece. Each form consists of a color core laminate shell, available in red, white or black. This glossy finish contrasts with the texture of the fabric or leather on the chair and ottoman
David Adjaye OBE is recognized as one of the leading architects of his generation. Adjaye was born in Tanzania to Ghanaian parents and his influences range from contemporary art, music and science to African art forms and the civic life of cities. In 1994 he set up his first office, where his ingenious use of materials and his sculptural ability established him as an architect with an artist's sensibility and vision.
The Washington Prism chair seat is comprised of individually upholstered panels of urethane molded foam. Base is constructed of 3/4" Baltic Birch plywood panels covered in plastic color core laminate which maintains color throughout so vibrancy is maintained from edge to edge. The panels are assembled together using poplar wood corner blocks. Optional return-to-center swivel base also offered.
33.25" w | 31.5" d | 31.5" h | seat: 16.25" h
$13,668.00 + free shipping
(usually ships in 6-8 weeks)

Hans Knoll, the son of a pioneer German furniture manufacturer, founded the Knoll company in New York City in 1938, one year after immigrating from Germany. He hired Florence Schust, a Cranbrook graduate who had worked for Gropius and Breuer, and the two were married in 1946. The next year, they opened a textiles division and showroom that was flanked with some of the worlds leading designers. Knoll would triumph thanks to impressive international contacts, gaining exclusive rights to the works of Ludwig Mies van der Rohe and producing them to their original specifications. This included the 1929 Barcelona Chair. They also commissioned Eero Saarinen to design the now iconic Tulip chair, and hold the rights to Marcel Breuer's seminal Wassily Chair. Artists such as Harry Bertoia, Jens Risom, and Isamu Noguchi would also collaborate with Knoll.
washington prism™ lounge chair