little field of flowers rug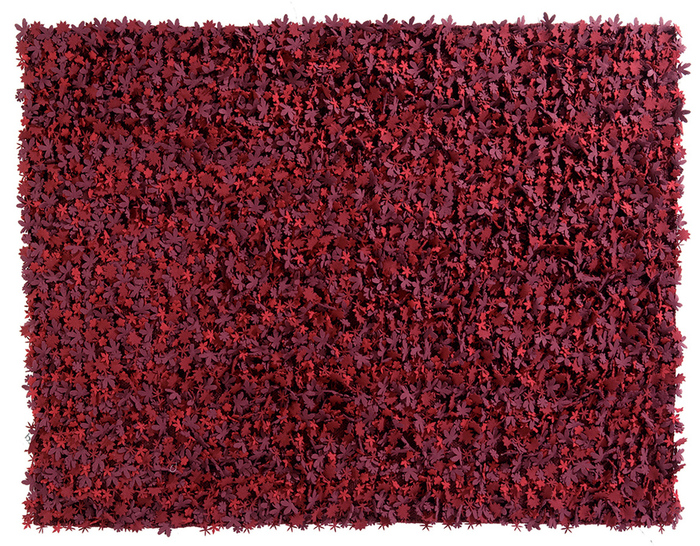 little field of flowers rug
Design Studio Tord Boontje
100% dyed felt wool, hand loomed
Handmade by Nanimarquina
Nature sneaks into the house thanks to this rug made with small, hand woven felt flowers. A rural oasis where you can dream and take a break from the urban hustle and bustle, from the cold pavement and stress of the city. A garden of unique delights that marks its own seasons according to the color chosen: reds, greens or ivory.
Felt is a non-woven fabric produced in sheets. It is not produced by weaving together warp and weft as with other fabrics. In order to produce felt, several layers of wool fibers are conglomerated through the use of steam and pressure, taking advantage of their adhesive properties. The different colors are produced by dying the wool before turning it into felt.
During the manual weaving process by handloom, the thread is fastened to the warp, wrapping it around a spindle that determines the height of the rug's strands. This technique permits a wide range of finishes, from simple, delicate short-strand shag or loop rugs to more elaborate textures with various materials.
Nanimarquina was founded in 1987 focusing on offering rugs to a world that is interested in creativity, quality and innovation. Today, Nanimarquina is one of the leading companies in the contemporary rugs sector. Under the premise of "reuse, reduce, recycle", they pay the utmost attention to caring for and preserving the environment that surrounds us. All of their rugs are hand made in countries with great traditions of craftsmanship. Nanimarquina also guarantees that no child labor is used in the manufacturing of their rugs. They also collaborate actively with organizations to further improve standards of living for those directly involved in the process of producing their rugs.
A piece that has won multiple design awards, that is not indifferent and invites you to play in its smooth, gentle leaves. It is another sign of the three-dimensional possibilities of rugs, with a large dose of subtlety, taste for the exquisite and refinement. Little Field of Flowers rugs are made using 100% dyed felt wool using a hand loomed technique. Custom sizes available on request.
small: 2'7" w | 4'7" L | total height: 60mm
medium: 5'7" w | 7'10" L | total height: 60mm
large: 6'7" w | 9'10" L | total height: 60mm
$1,368.75 + free shipping
(stocked items usually ship in 2-3 weeks, otherwise please allow 10-12 weeks for delivery)

Tord Boontje (b. 1968) graduated from the Design Academy Eindhoven in 1991 where he studied Industrial Design, and earned a Masters degree from the Royal College of Art in London in 1994. By '96 he had founded his own studio in London, and remained there until 2005, at which point he relocated to Bourg-Argental, France. Boontje was nominated for the Designer Of The Year Award at the Design Museum 2003, and also nominated for Designer of the Year by Elle Decoration UK. There, the Garland Light won the award for best light and Readers Choice for Future Classic.

Nanimarquina is one of the leading companies in the contemporary rugs sector. Constant development and creativity are the common denominators for the entire team of people who make up nanimarquina. We work day after day to convey the essence of our brand, so that values such as craftsmanship, unique pieces, manual production and the most contemporary design mixed with traditional techniques can be infused into each of our rugs and brought to each and every one of the spaces where nanimarquina is present.
little field of flowers rug