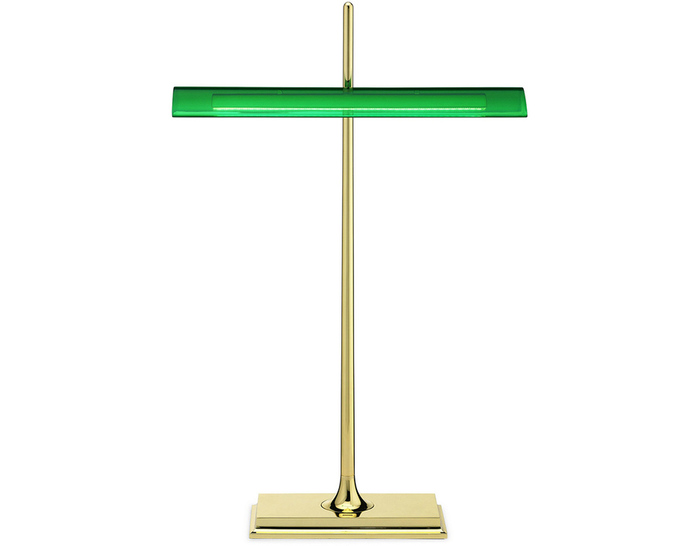 goldman table lamp
Design Ron Gilad, 2013
Aluminum, methacrylate, polycarbonate, zamak
Made in Italy by Flos
Goldman is a re-interpretation of the classic library lamp from designer Ron Gilad. It features direct LED lighting technology through a transparent smoke or transparent green methacrylate diffuser. The frame is aluminum in your choice of finish options with optical switch with dimmable "soft touch" technology on base. Touch sensor with 2-step dimmer on base. Goldman also includes a USB port, which gives you the possibly to charge your phone and other devices with your lamp.
Born in Tel-Aviv, Ron Gilad lives and works in New York City. His designs combine material wit with aesthetic play; they sit on the fat, delicious line between the abstract and the functional. His work, which vary from one-off to limited editions and production pieces, have no "expiration date" and reside in both public and private collections worldwide.
15.75" h | base: 3.15" d | 5.1" w | shade: 10" w | 98" black cord | 2 lbs. | cUL & UL listed
includes 42 x LED 420 lumen, 2700K CRI 85 - 8w LED bulbs
+ charger USB 5VDC 1,5A
$755.00 + free curbside delivery delivery in the continental US
(in-stock usually ships in 1-2 days, otherwise please allow 20-30 business days)

The furniture manufacturers and entrepreneurs Dino Gavina and Cesare Cassina founded Flos which became one of the leading Italian light manufacturers in the second half of the 20th century. Its origins lay in the energy of Arturo Eisenkeil who, in 1959, was seeking to find applications for a new, plastic-based material that he was importing to Italy from the United States. Called cocoon™, it was a spray-on plastic coating that Gavina and Cassina recognized as having potential for lighting design. From the outset, Flos established its reputation through its innovative lighting designs from Achille Castiglioni. The collaboration with Achille Castiglioni continued through the '90s, and in 1992 he introduced the "family of products" concept to the market with the Brera series. At the same time, Flos continued to scout for emerging talent at an international level. The first Philippe Starck lamp was produced in 1998, followed by the Miss Sissi lamp, Romeo Moon, and Archimoon series.