iittala artik flatware 5 piece setting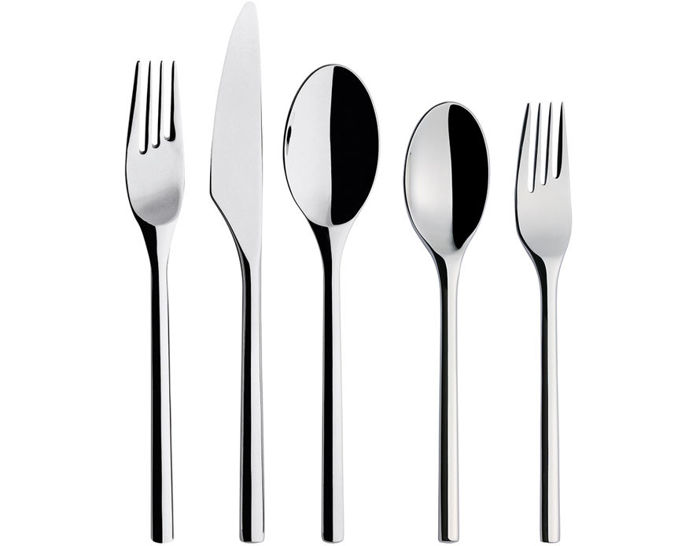 iittala artik flatware 5 piece setting
Design Partanen & Kankkunen, 2000
Stainless steel
Made by Iittala
Pure function. Artik is cutlery design at its purest. The distinguishing feature of Artik is the oval shape of the handles. An elegant range in stainless steel.
Laura Partanen (b. 1972) and Arto Kankkunen (b.1965) belong to a new generation of young Finnish designers. This couple share a design philosophy strongly connected to everything that characterizes Iittala. Their work has been shown at Young Forum 2000 - an exhibition arranged by Design Forum in Helsinki.
5 piece place setting as shown. Dishwasher safe.
dinner spoon: 7.75" L
dinner fork: 8" L
dinner knife: 8.75" L
dessert fork: 7.25" L
dessert spoon: 7.25" L
$96.00 + free shipping
(In stock, usually ships in 4-7 days, otherwise please allow 2-3 weeks for delivery)

What started as a glass factory in Iittala, Finland, now celebrates generations of essential objects that are made to enrich people's everyday lives. Iittala believes objects should be distinctive, combinable and multi-functional, with lasting design that allows for individual use and expression. The progressive philosophy of design heroes, Kaj Franck and Alvar Aalto, still inspires to keep Iittala forever relevant. Iittala creates beautiful objects... timeless design that will never be thrown away.
iittala artik flatware 5 piece setting