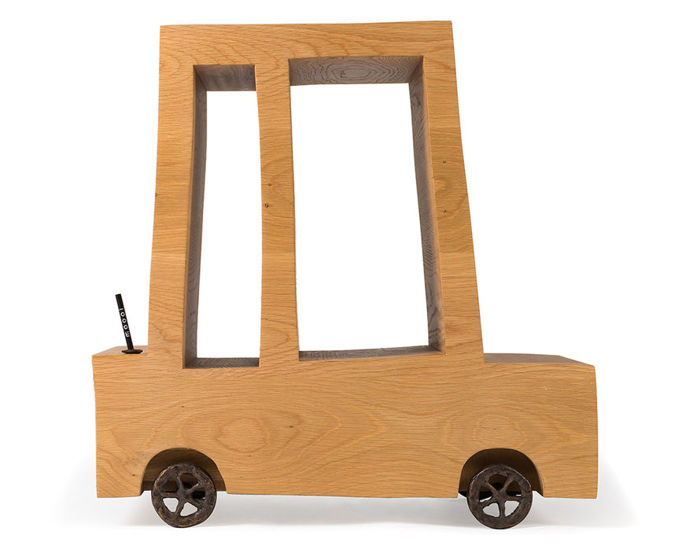 turbo table high
Design Maarten Baas, 2016
Natural oiled oak, bronze
Made in The Netherlands by Moooi
The dynamic of wheels in motion has reached new heights of creativity. A cartoon-like drawing of a car with an elevated roof vrooms to life as a super cool side table. Its top is the perfect surface to park a pot of tea, while books and magazines can take residence behind its windows. A vase of flowers? On its trunk of course!
Maarten Baas is a Dutch designer who graduated from Design Academy Eindhoven in 1996. In 2000 he studied for several months at the Politecnico di Milano. In June 2002 he graduated at the Design Academy a series of burned furniture called "Smoke". Maarten is searching for the boundaries of design, without leaning on the regular "do's and don'ts".
Turbo is offered in two sizes and features natural oiled oak wood with bronze wheels.
24" h | 13.8" w | 24" d
$4,476.00 + free shipping
(usually ships in 20 business days)

Maarten Baas (b. 1978) made his first design, "Knuckle," as a student at the Design Academy Eindhoven. This candle holder for candles of various sizes was taken into production by Pol's Potten. He also sold the first unique piece of the now well known "Hey, Chair, Be A Bookshelf" furniture during this time. After some time studying at Milan Polytechnic and graduating from the Design Academy, he designed the "Smoke" series of burned furniture, which was nominated for awards and adopted into the Moooi line, as well as the personal collection of Philippe Starck. "Smoke" pieces would later be commissioned for every room of the Gramercy Park Hotel. Baas creates unique pieces that are each handmade, though produced in series, and explore the boundaries of design without merely just breaking the rules.

Founded in 2001 by complementing personalities Marcel Wanders and Casper Vissers, Moooi is named after the native Dutch word for "beautiful". According to the company, "the 'third "o' in the brand name stands for an extra value in terms of beauty & uniqueness." In additon to Wanders' work, Moooi has produced work from Bertjan Pot, Maarten Baas, Ross Lovegrove and Studio Job. Ultimately, Wanders is responsible for the overall design selection process.